About Time and Timing
My clumsiness in using twitter

I apologize for this somewhat long message contrary to the standards of twitter. The past months, due to work commitments (I am artist and composer also outside the crypto world) but also for family reasons, my twitter activity has been rather slow, mechanical and not very involved. Some of you have written to me and I realize that I have not even responded, or have done so in a very superficial form. In other cases I simply given up offers just because time did not give to think about it and with my thoughts directed elsewhere. For this reason for you who have collected my work (either recently or by quantity) I have decided to "mint" a work that I have already transferred or am transferring, to your collections, as thanks and recognition for the trust and respect you have always shown toward my work. (In case it does not appear please let me know)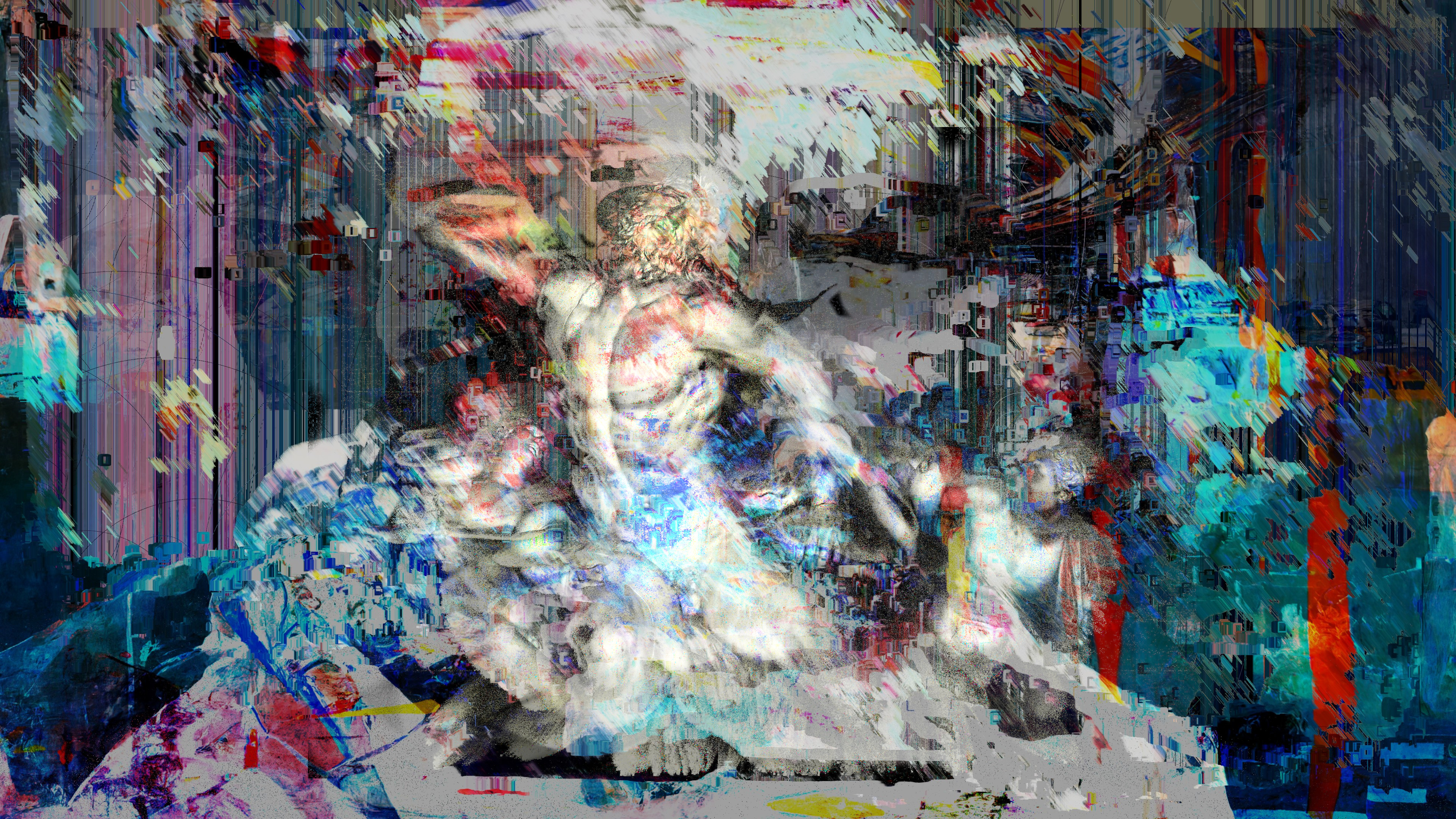 I chose this work because it brings together, in technique, the last years of my work and current trends in production crypto. In fact, it is based on a dataset of images, about 90, made in midjourney, and then reprocessed through one of the latest versions of my 111v.NN algorithm, which uses the neural network techniques, but without realizing them - stopping them at the exact moment before "art" exists - to which I overlay an image of the famous Laocoonte sculpture (from the Vatican Museums) processed by a version of my previous algorithm(first 2006 version), which works instead on redefining the pixel structure (the "pixel" that determines the characteristics of the image visible).
Twitter is certainly not my world, too quick and superficial to write and discuss about art in a proper way. But we all know that twitter was not born for this purpose. Interesting that it has become one. I somehow consider myself a digital art romantic, or boomer :-), even if i work in this field since the end of 80s. About art you have to write deeply, to understand its aesthetics, its canons, its creative processes that are slow and beautiful precisely because of their slowness, aged properly like a good Barolo and savored, like a good whiskey, a good rum and, a good tequila. The techniques of "engagemnet" are certainly not my specialty. The more time passes and the more I realize that my interest, for more than 30 years now, has been to create digital art, to research between art and technology, to find the "conceptual stumble". The rest, while I know it is necessary, I find very difficult. Despite these new developments in blockchain, it is said, have shortened the distance artist <-> collector, I am strongly convinced that that figure in the middle who used to competently manage these relationships is again needed, and will return certainly, in my case, for sure it is desperately needed . It's a job, either I do the artist or I do the artist's representative.
I believe that in this context, the work of the collector it is even more complex. The artist after all knows who he is, creates and produces according to his aesthetic canons, his concepts, developed over the years (although lately there is a certain flourishing of last minute artists). While the collector, through a medium, twitter, which is not at all conducive to the dissemination of art, must be able in the few characters of a tweet and from a small photo, and not even in high definition, to understand if that work, if that artist has a value, first of all artistic and then obviously commercial.
Or perhaps, everything I have written is invalidated by a simple principle: Crypto art is neither digital art nor even traditional art. It is a new form of social expression where not only the result (image, video, audio) is part of the work but the whole process. Both the creative process and its presentation and the engagement are the artwork, making it, in its whole, a kind of crypto performance. In the end, social networks allow us to create a "persona" who does not reflect necessarily our real being. A persona/avatar who exist only behind that account, and this is as true for artists as it is for collectors.
I would very much like to hear your opinion as well, whether in two lines or as a stream of consciousness like this :-) (as well DM if you prefer)
thanks again for your support and patience if you have gotten to read this far!!!
PS
In further proof of my clumsiness and in using twitter and non-directly artistic tools, such as NFTbiker, I was able to excluede 3 collectors from my drop. For them I minted a separate piece :-)